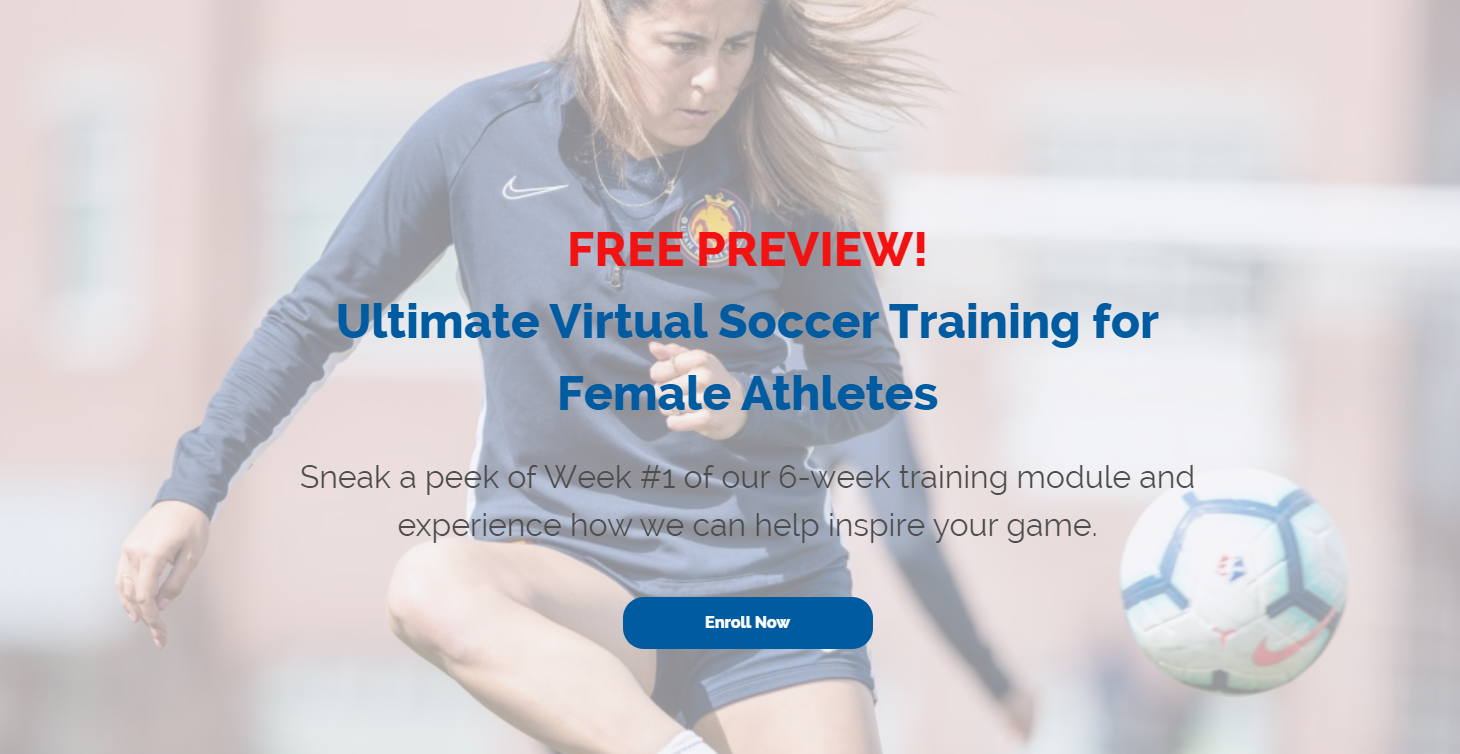 Looking for more structure in your training? Are you training all aspects of the game? We can help. This is not your normal training program. We are not living in normal times. It is not about doing more, it's about doing the right things at the right times. Here's how my six-week virtual training program works.
(The free preview will only include the first week's training module and not include the competition or featured athletes)
Over six weeks, starting Monday, March 15th, 2021, we will begin each day with my daily touch. Here I will share with you what I have learned along the way, what barriers I had to overcome, and what I did to reach my dreams. We are going to break down your training with pre-recorded educational segments on specific days of the week and skills and physical training by weeks. Along the way, we will work to include core values and establishing effective behaviors that will influence both your performance and well-being on and off the field.

Daily Focus
On Mondays, Nicky Keay, a sports endocrinologist, and Robin Cecil, a youth sports physical therapist, will focus on helping you better understand female physiology, training myths, strategies to reduce injury risk, and learning to listen to your body. This is critical in today's youth sports structure.

On Tuesdays, Kim, an exercise scientist, will focus on the physical aspects of training. We will identify what type of training to do, when, and how much including recovery sessions and periodization as you participate in a year-round sport. Kim will also provide guidance in establishing simple, appropriate, consistent physical training protocols that you can maintain after this program ends.
On Wednesdays, Kelsey, a sports psychologist, will focus on the mental aspects of your training. This will include motivation, self-talk, self-esteem, goal setting, and more. This also includes a section on how to communicate effectively as a player with your coaches and parents and learning how to reach out if you are in need of help.
On Thursdays, Michelle, a registered sports dietician, will provide the nutrition knowledge that you will need to take the best care of your training tool, your body. This includes performance nutrition 101, along with performance plates, nutrient timing, travel nutrition, and more.
Three practical application activities will be provided during each week that coincides with the daily education. Depending on your schedule, you will be able to choose to participate in one, two, or three of the activities. (ie: 5-day training diary, 3-day food diary) These activities are listed in the curriculum with the ability to submit them in the comments section.
Weekly Focus
Each week, I will guide you as you train to improve one skill per week with the focus of learning each skill really well. At the end of the 6 weeks, you will have 6 ball control skills that will increase your ability to move with the ball at your feet in whichever position that you play.

Each week, Kim will provide a physical training aspect that you can integrate into your personal training schedule. This is an important aspect of training that improves performance while reducing injury risk, especially when athletes are growing. (ie: 5-days per week body weighted strength training)
Each week, you can enter a competition if you have completed all aspects of the educational training and skills and physical training or placed in the comment section why you were unable to train. Each Monday we will identify the competition and on Friday of the same week, you will submit your video of you completing the competition. If there is a tie, a drawing will be used to determine the winner. (ie: the most juggles, push-ups, or touches on the ball in 1 minute). A notification will be sent via email to all participants with an image of the winner. The weekly winner will receive prizes such as a New Apple iPad (10.2 inches, Wi-Fi, 32 GB) 8th.
Throughout the six weeks, you will also be able to learn from other professional and/or D1 athletes? You will be able to meet through YouTube Live, several NWSL, WSL, Premier, National, and NCAA D1 female soccer players. They will share their journey in a 20-minute segment, followed by a 20-minute question and answer period. The questions will need to be pre-submitted. The YouTube live segments will be scheduled inside the curriculum by Sunday of the week they will be featured. These will be recorded and available for review if you are unable to make the session.
How much time per day will this program take?
Within the curriculum, the time for each segment is listed. The time it will take to complete the educational videos is 20 minutes or less Monday through Thursday. The training will range between 30-60 minutes Monday through Friday, depending on the day. This training will complement what you are already doing with your club teams. The weekly activities can be integrated throughout each day.
I am excited to share with you what I know now and I wish I had known when I was your age.
Learn more and enroll in the training module here.

Learn more and enroll in the Free Preview here.